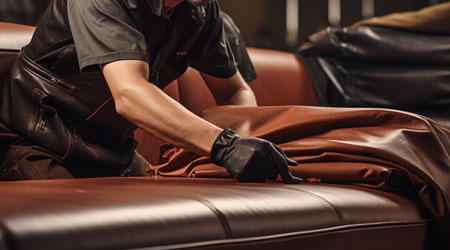 Service Guide

Want to restore the comfort and elegance of your favorite seating spot? You've come to the right place! Our leather reupholstery service offers the perfect solution for those seeking to recover cushions. Learn about replacing cushions, how our services work, and the materials we offer. So let's dive in!
How Does Replacement Cushions Work?
→ 3 easy steps for a hassle-free experience
1
Get Quote

Submit form and include photos to provide us with detailed information and visuals of your cushion.

2
Pickup/Mail




Local customers can drop off or opt for us to collect the cushions. You can also ship us the cushion cover.

3
Delivery




Delivery of your seat cushions varies depending on the job and leather material. Average time is 2 weeks.
Understanding the Need for Replacement Cushions
→ Leather Cushion Wear & Tear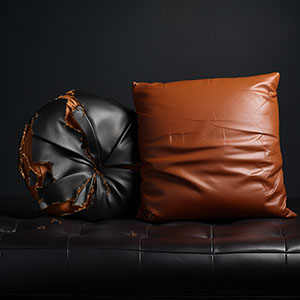 Over time, even the highest quality leather couch cushions can start to show signs of wear and tear. Everyday use, exposure to sunlight, spills, and general aging can lead to cracks, creases, and a loss of cushioning. Instead of investing in an entirely new couch, replacing the cushions can breathe new life into your beloved leather furniture. Replacing a cushion saves you money and preserves your budget. Learn more about our comprehensive solutions for recovering leather seat cushions:
Recommended for:
Luxury Leather Sofa, Chair Cushions, Dining Chair Seats, Ottoman Top Pads

Tear

Cracks

Creases

Oily

Pets
Replacement Cushion Service
→ Full and Partial Replacement
We offer both full leather reupholstery and partial leather re-upholstery services, allowing you to choose the level of restoration that suits your needs. Whether you need to replace all the cushions or just a few, we've got you covered.
Leather Matching
→ Leather Texture, Color, and Style
We understand the importance of a good match. Our team can match your current leather upholstery with our Italian leathers, making sure the new cushions blend seamlessly with your couch. Browse our leather material to help you visualize and select the right leather for your cushion replacement, based on texture, color, finish, and style. Alternatively, we can help you select a leather that complements your leather sofa or chair beautifully. Here we highlight the diversity of leather types we're experienced with.
Top Grain Aniline, Pigmented, Nubuck, Oil & Wax

Matte, Glossy, Natural Surface Coating

Fine, Pebbled Grain, Distressed, Embossed

Wide Selection of Colors
Types of Cushions
→ We reupholster various cushion styles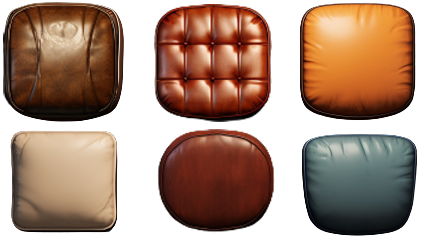 Box Cushions: Clean design cushion with squared corners.
Tufted Cushions: Button or stitch tufting, a classic look.
T-Cushions: T-shaped design fitted for various chairs.
Backrest Cushions: Placed against the back of the furniture.
Wedge Cushions: Triangle shaped seat and fits into the corner of a sofa sectional.
Common Issues Solved by Leather Cushion Replacement
→ Renew, Restore, and Revive Your Leather Furniture
Torn Leather

Replace cushion cover to repair rips and tears from dried worn out leather.

Cracking Leather

Leather cushion replacement is the fix for cracks in old leather seats.

Creased Leather

Cushion recovering removes creases and sagging in aging leather cushions.

Oiled Leather

Reupholster cushions to remove dark spot stains from body, head, and arms oils.

Damaged Leather

Replace a pet damaged cushion, whether it's a dog's chewing or cat scratches.

Custom Cushions

Re-upholster new dining room chair seats, restaurant seating, or throw pillows.
Leather Cushion Replacement Before & After
Worn Out and Ripped Leather Living Room Couch Seat Cushion Recovered with New Matching Leather
Cracked, Creased, Wrinkled Leather Chippendale Wing Back Seat Cushion Chair Reupholstered
Torn Seams on T-Shaped Brown Leather Lounge Chair Seat Cushion Recovered with Top Grain Leather
Dry and Worn Out Piano Shaped Black Leather Sofa Sectional Seat Cushion Reupholstered
Conclusion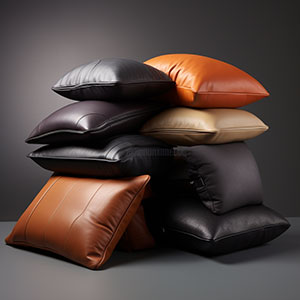 If your leather couch cushions have seen better days, don't despair. Our leather restoration and re-upholstery service offers a cost-effective and sustainable solution. Whether you choose to visit our shop in Fullerton or send us your slip covers, we're here to ensure your leather couch remains a source of comfort and pride for years to come. Explore our leather materials, learn about our process, and get in touch with our team to get started on your cushion replacement journey today. Your leather couch will thank you!
Frequently Asked Questions
Q: Can you fix rips, holes, splits on a leather cushion?
We do not offer Leather Repair/Patching/Handstitching for rips or tears. We offer Partial or Full Leather Upholstery, which replaces damaged leather with new matching leather. This service requires purchasing leather and disassembling the upholstery.
Q: Can you match natural aniline leather?
When using our Partial Leather Reupholstery service, it can be difficult to find a perfect match for older batches of natural aniline leather. This can lead to a noticeable difference between the new and existing leather on your furniture. Therefore, we suggest opting for our Full Leather Reupholstery service instead.
Q: Can you reupholster undetachable couch cushions?
Yes. We do offer reupholstery for cushions that are affixed to the furniture frame. It's important to note that this service is more expensive and involves more labor since it often requires disassembling the entire piece of furniture. In addition, this service is only available for customers within our service area.